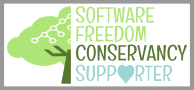 The GPL is not magic pixie dust. It does not work by itself.
The first step is to choose a copyleft license for your code.
The next step is, when someone fails to follow that copyleft license, it must be enforced
and its a simple fact of our modern society that such type of work
is incredibly expensive to do and incredibly difficult to do.

-- Bradley Kuhn, in FaiF episode 0x57
As the Debian Website used to imply, public domain and permissively licensed software can lead to the production of more proprietary software as people discover useful software, extend it and or incorporate it into their hardware or software products. Copyleft licenses such as the GNU GPL were created to close off this avenue to the production of proprietary software but such licenses are not enough. With the ongoing adoption of Free Software by individuals and groups, inevitably the community's expectations of license compliance are violated, usually out of ignorance of the way Free Software works, but not always. As Karen and Bradley explained in FaiF episode 0x57, copyleft is nothing if no-one is willing and able to stand up in court to protect it. The reality of today's world is that legal representation is expensive, difficult and time consuming. With gpl-violations.org in hiatus until some time in 2016, the Software Freedom Conservancy (a tax-exempt charity) is the major defender of the Linux project, Debian and other groups against GPL violations. In March the SFC supported a lawsuit by Christoph Hellwig against VMware for refusing to comply with the GPL in relation to their use of parts of the Linux kernel. Since then two of their sponsors pulled corporate funding and conferences blocked or cancelled their talks. As a result they have decided to rely less on corporate funding and more on the broad community of individuals who support Free Software and copyleft. So the SFC has launched a campaign to create a community of folks who stand up for copyleft and the GPL by supporting their work on promoting and supporting copyleft and Free Software.
If you support Free Software, like what the SFC do, agree with their compliance principles, are happy about their successes in 2015, work on a project that is an SFC member and or just want to stand up for copyleft, please join Christopher Allan Webber, Carol Smith, Jono Bacon, myself and others in becoming a supporter. For the next week your donation will be matched by an anonymous donor. Please also consider asking your employer to match your donation or become a sponsor of SFC. Don't forget to spread the word about your support for SFC via email, your blog and or social media accounts.