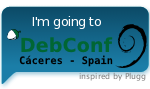 I caught the end of a sale for international flights

Perth -> Dubai -> London Gatwick -> Madrid -> Cáceres.
Might be stopping in to see family in the UK and or other folks in Germany.
If any folks in London near Gatwick feel like lending a couch to a Debian developer on July 13th, please contact me.
Definitely looking forward to the debexpo hacking and deployment session, having fun with Debian games folks and seeing Debian folks again.